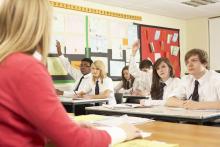 According to the results of a new Cochrane review published in the Cochrane Library, children who are taught about preventing sexual abuse at school are more likely than others to tell an adult if they had, or were actually experiencing sexual abuse.
The Cochrane Developmental Psychosocial and Learning Problems Group, funded by HSC R&D Division, PHA, was delighted to see the widespread interest in the publication of a review on the prevention of sexual abuse.
Professor Geraldine Macdonald, the Group's Coordinating Editor, said 'Child Maltreatment is one of the world's 'wicked problems', and the sexual abuse of children is a serious issue, and one that governments all over the world are seeing to address. This review, the production of which was facilitated by the Group,  should be compulsory reading for all those concerned to prevent the sexual abuse of children. It highlights the opportunities afforded by school based programmes.
For more information please see the press release on the Cochrane website
Full citation:
Walsh K, Zwi K, Woolfenden S, Shlonsky A. School-based education programmes for the prevention of child sexual abuse. Cochrane Database of Systematic Reviews 2015, Issue 4. Art. No.: CD004380. DOI: 10.1002/14651858.CD004380.pub3.