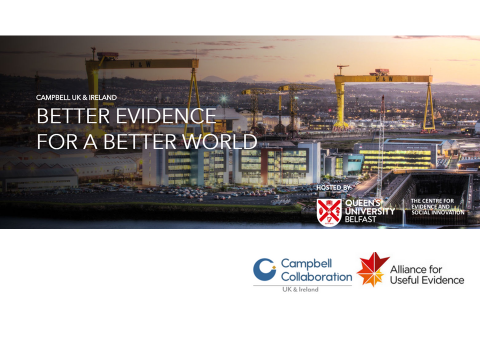 What:  The Challenges of Using Evidence to Inform Policy and Practice
When: Tuesday 24 April 2018 9.30am - 2.00pm
Where: Conference Room, Riddel Hall, 185 Stranmillis Road, Belfast
Confirmed speakers include:
Dr Sile Lane, Sense about Science
Mr Ed Orlik, What Works Cabinet Office
Mr Maurice Meehan, Public Health Agency
Please see the attached flyer and to register click here for the Eventbrite link.  Lunch will be provided.
The Campbell Collaboration UK and Ireland is a national centre of the Campbell Collaboration.  It's role is to promote the work of the Campbell Collaboration across the UK and Ireland. The primary focus of this work is to encourage the greater production and use of Campbell Reviews nationally.
Campbell UK & Ireland will achieve this through: supporting training and research capacity building in relation to systematic review methods; seeking funding to support research teams in the UK and Ireland undertake Campbell Reviews; and making strategic connections with research organisations, universities, NGOs and local and national governments across the islands to encourage the greater use of Campbell Reviews and promote a stronger focus on evidence-informed decision making.
The Alliance for Useful Evidence is a network, hosted by Nesta, that champions the smarter use of evidence in social policy and practice. They do this through advocacy, organising events, sharing ideas, and delivering training and support.