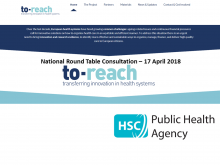 Title: National Round Table Consultation
Date: 17 April 2018 (9.30am - 1.30pm with lunch)
Venue: LinenSuite, Mossley Mill
The Public Health Agency would like to invite you to participate in a National Round Table Consultation with the purpose of setting a strategic agenda for health systems research in the coming years.
Health systems are currently facing a series of considerable challenges arising from rapid changes in the socio-economic environment within which they operate as well as the ever increasing pace of change and technological innovation, including digitalisation of society. There is a need to develop evidence for health system strengthening and transformation that anticipates and meets the new needs being generated through the rapid scale of demographic, environmental and technological change. Well-organised health systems research can play a vital role in promoting the development, transfer and uptake of innovative solutions to sustain equitable and effective health systems into the future.
This consultation is being organised as part of the To-Reach project, a project funded by the Horizon 2020 programme of the European Union. As a result of this project, a strategic agenda for health systems research with added value for implementation at European level will be elaborated. As health systems face increasingly common challenges, several of which emanate from factors which transcend national borders, there is a clear benefit that arises from sharing knowledge, expertise and resources in order to enable a larger societal impact to be achieved. This avoids research 'waste' and enables better use of scarce resources. It is acknowledged that when it comes to health systems 'drag and drop' solutions do not work. Instead of a 'one size fits all´ approach, solutions need to be tailored to fit to national circumstances. When it comes to ways of organising care, but also clinical or technological advances often require a transformation and adaptation in order to fit with structural, legal and financial arrangements that vary per province, region or country.
This is therefore a unique opportunity for stakeholders to come together and shape the agenda for health systems research both in our country and at European level.
This consultation aims to provide answers to the following questions:
·       In your opinion, what are the most important challenges that you would like to see solved within the health system of your country? How can health services and policy research help to address this?
·       Of these challenges, which could be addressed more effectively by using research at the European Level?
·       Are you aware of solutions from other countries that you would like to implement in your country? What factors need to be taken into account so that these can be implemented within your country context? 
We would be delighted if you are able to contribute with your expertise and accept our invitation to participate in this discussion. The meeting will be held on Tuesday 17th April 2018 at Linen Suite, Mossley Mill between 9.30am – 1.30pm (with lunch). Participation is free of charge but since places are limited you are kindly requested to confirm your participation by adding your details to the bottom of the attached flyer and e-mail to cara.mcclure@hscni.net no later than Monday 9th April 2018 to reserve your place at this event. 
Closer to the meeting date, you shall be receiving more detailed background information to assist you to prepare for the meeting and contribute actively in this consultation process.