Scientific and medical personnel from the pharmaceutical industry, academia and health gathered in Belfast on Wednesday 7 and 8 October for the 2015 Northern Ireland Clinical Innovation Conference, an event focused on improving collaborative efforts to accelerate adoption of innovation in the healthcare system.
The event, opened by Dr Janice Bailie, Assistant Director of the Public Health Agency's (PHA) HSC Research & Development Division, showcased Northern Ireland's clinical and academic biomedical research capability, infrastructure and world class research outcomes, with the goal of increasing the number and scale of international medical research partnerships in Northern Ireland.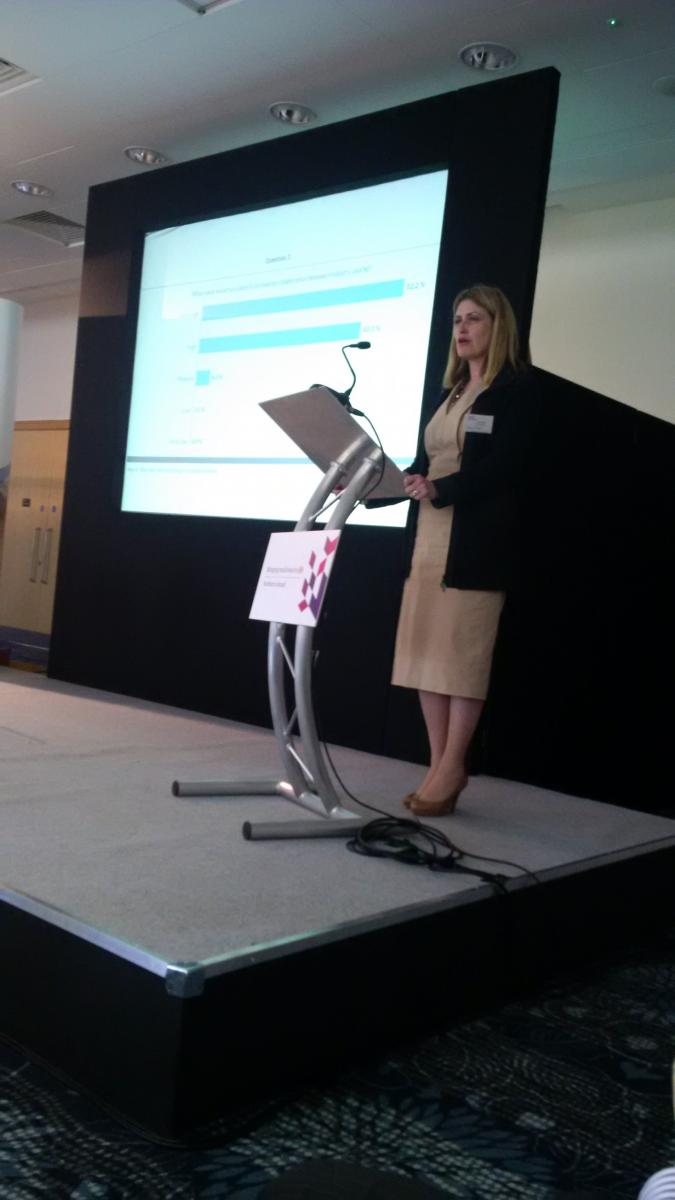 The 2015 event was jointly organised by the Association of the British Pharmaceutical Industry Northern Ireland Innovation Group, Health and Social Care (HSC) Innovations, HSC R&D Division of the PHA, Invest NI, Queen's University Belfast and Ulster University. The inaugural event in 2014 resulted in 8 new clinical studies being placed in Northern Ireland, with a further 18 research collaborations still in discussion. These collaborations have the potential to boost Northern Ireland's role as a global destination for clinical research and to contribute towards improved health for the population, as well as providing benefits to the local economy.
This year's conference attracted 200 delegates from 21 global pharmaceutical companies, academia, local life science businesses, health and social care and government. The agenda was designed to allow engagement, discussion and debate in a variety of workshops covering cardiology, cancer, respiratory, precision medicine and medicines optimisation, as well as accelerating adoption and diffusion of innovation.
Launching the event, Dr Janice Bailie, PHA HSC R&D, said: "We, in the PHA's R&D Division, are delighted to be working with so many colleagues and partners in showcasing the capability and capacity in Northern Ireland. Over the last seven years a growing proportion of our budget has been invested in creating clinical research networks and other supporting research infrastructure with the aim of providing a platform for Northern Ireland researchers to compete at a global level in health and social care research. I believe we have very much succeeded in that aim. We are more than ready to work with industry colleagues and there is always an open door to discuss how we might best do that together."
Speaking at the event Dr Michael McBride, Chief Medical Officer, Department of Health, Social Services and Public Safety, said: "I am delighted to have been able to support and attend the Northern Ireland Clinical Innovation Conference. Involvement in clinical research is vital to gathering the evidence needed to understand which tests, treatments and care practices are best for our patients.
This event represents an opportunity to engage with companies that are actively seeking to run research studies in Northern Ireland, to understand their requirements and to bring more commercially-funded research to Northern Ireland. This gives our patients access to the newest tests, treatments and technologies through regulated clinical trials programmes. Ultimately, clinical trials provide the evidence base to ensure services are optimally designed and resources are used in an evidence-based manner for the benefit of our population."
Colette Goldrick, Director ABPI NI, who attended the event said: 'Our industry seeks to develop research collaborations in countries with strong international networks, outstanding academic and clinical leadership and the ability to deliver globally applicable results quickly. Northern Ireland ticks all those boxes. Our job was to get international research leads here to see at first-hand what can be delivered, and it was exceptionally gratifying to see so many new and potentially exciting connections being made over the two days of the conference.'
Notes to editors:
1. The conference was organised by a steering group comprising ABPI NI Innovation Group, Health and Social Care (HSC) Innovations, the HSC Research &Development Division of the Public Health Agency, Invest NI, Queens University Belfast and Ulster University.
2. It was organised as an opportunity for medical and scientific staff from global pharmaceutical companies to engage with government, Health and Social Care, academic and clinical research stakeholders in Northern Ireland.
3. The Northern Ireland Executive is working on a Life and Health Sciences Strategy. This strategy will be cross-departmental with input from the Department of Enterprise, Trade and Investment (DETI) and Department of Health, Social Services and Public Safety (DHSSPS).
4. At this point, the Life and Health Sciences Strategy is in development, informed by the Matrix Life and Health Sciences Capability Assessment and Foresight Report which was launched in February 2015 by Department of Enterprise, Trade and Investment Minister Arlene Foster and Permanent Secretary Richard Pengelly, supported by UK Life Sciences Minister George Freeman. 
The agenda and further details are available on the conference website.