Early intervention to prevent disease, prolong life and promote health is a fundamental cornerstone of effective public health practice and essential for improving the general health of the public.
That's the message from the Public Health Agency's (PHA) ninth annual Director of Public Health report launched on Thursday 8 November 2018, at the Joint Public Health Annual Conference in Belfast.
Tying in with the theme of the conference 'Early intervention for life', the report does not simply refer to 'early years' intervention; but to interventions at an early age or at an early stage, for example an early diagnosis of disease.
Dr Adrian Mairs, Acting Director of Public Health, PHA, said: "The earlier action is taken to prevent or resolve a problem the better the outcome. In more recent decades, governments and policy makers across the globe have increasingly recognised the need to intervene early, both early in life and early in the stage of disease, to effectively improve the public's health and wellbeing.
"The benefits of early intervention are numerous and the traditional model of treating problems as they arise is now too costly to our health service and detrimental to the health and social wellbeing of our population. It is vital that as a society we recognise and value the importance of early intervention, and prevention, programmes."
The Public Health Annual Conference was hosted by the PHA, the Health Service Executive, the Institute of Public Health in Ireland, the Department of Health and the Centre of Excellence for Public Health Northern Ireland – is focusing on early intervention across all stages of life for the population across the island of Ireland.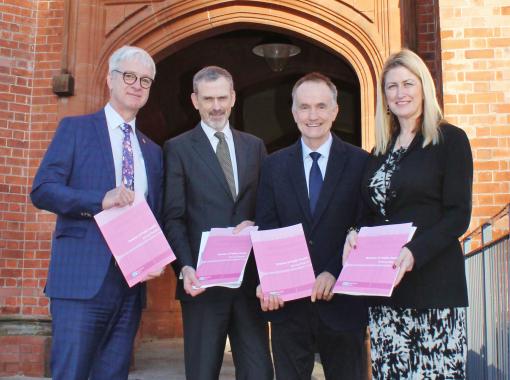 Left to right - Dr Adrian Mairs, Acting Director of Public Health, Public Health Agency, Professor Roger O'Sullivan, Interim Chief Executive, Institute of Public Health in Ireland, Professor Frank Kee, Director, UKCRC Centre of Excellence for Public Health (NI), Acting Director for the Centre of Public Health, Queen's University Belfast and Dr Janice Bailie, Assistant Director of HSC R&D Division, Public Health Agency.
Over 180 people attended the conference and from the feedback on our evaluation form the conference was generally well received.  Some of the presentations from the conference are now available to download if you click on the image of the relevant presentation below:
Professor Frank Kee
Theme: Early Intervention in Early Years
                Dr Fionnuala Cooney                   Dr Sharon Millen
Theme: Early Intervention in Teenage Years
Dr Lucy Jessop                                                Prof Maria Lohan
Theme: Early Intervention in Adults
Siobhan Hamilton                              Dr Michelle McKinley                        Dr Catherine Conlon                            Dr Catherine Conlon - full report
Theme: Early Intervention in Older People
Dr Annette Burns & Prof Gerry Leavey       Dr Aisling O'Halloran                               Eleanor Ross
Theme: Early Intervention and Treatment of Illness
Brendan Bonner                                        Dr Therese Mooney                                 Dr Eve Griffin