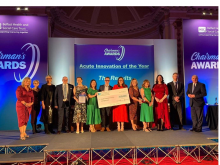 The NI Clinical Research Network, Critical Care team won first place at the Belfast Trust Chairman's Awards in the 'Acute Innovations' category for Covid-19 Research in ICU changing care.
The award, worth £10,000, was in recognition of the team's work in recruiting critically ill patients to clinical trials during the COVID-19 pandemic.  The REMAP-CAP trial (https://www.remapcap.org), to which the team in Belfast recruited over 130 patients during the pandemic waves in 2020 and 2021, helped to show the life-saving effects of steroids and IL-6 inhibitors, thus rapidly changing practice in the treatment of patients with COVID-19 and showcasing the benefits of clinical trials embedded in clinical practice.
Critical Care co-lead, Dr John Silversides said, "The critical care team would like to acknowledge the contribution of all those from the wider NICRN and NICRF teams, as well as the R&D department, pharmacy and the very many nursing, medical and other colleagues without whom this would not have been possible."
To read more see the NICRN website.