Background and Role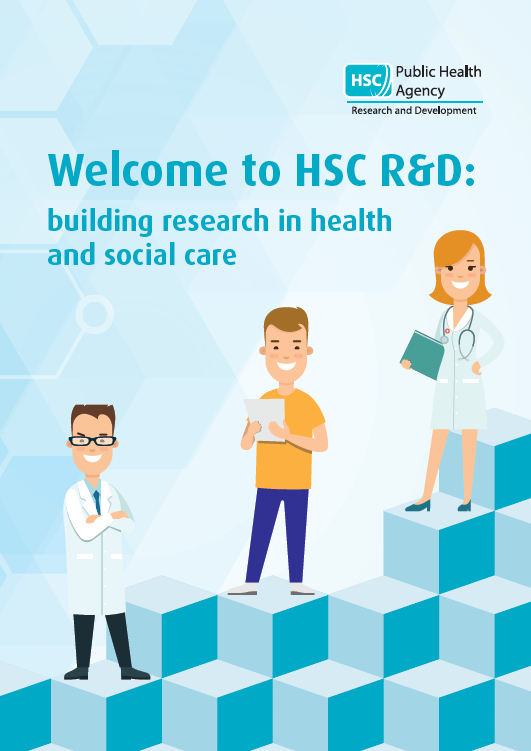 The Health and Social Care Research and Development (HSC R&D) Division is part of the Public Health Agency. Established in 2009, it is responsible for the administration and coordination of the HSC R&D budget on behalf of Department of Health, Northern Ireland (DoH NI). Its work is based on the principle that the best health and social care must be underpinned by knowledge, based on well conducted research, which can then be applied in the delivery of care.
(Between 1998 and 2009, prior to the Review of Public Administration, this function was carried out by the R&D Office, as part of the Central Services Agency).
The HSC R&D Division supports researchers based in Northern Ireland as well as those in Health and Social Care Trusts or other bodies who use the outputs from research findings.
While the effectiveness of research performance and application depends ultimately on the skill and ability of individual researchers and users of research, the HSC R&D Division ensures that researchers can work within an environment that supports, encourages and facilitates them.
For example HSC R&D Division:
funds essential infrastructure for research such as information databanks, tissue banks, clinical research facilities clinical trials units and research networks
builds research capacity in Northern Ireland through research training opportunities
enables research governance processes to be as efficient as possible
creates opportunities for researchers to compete for research funding on a wider UK or international basis
supports innovation as a means of transferring HSC R&D findings into practice
ensures personal and public involvement (PPI) in HSC R&D
From time to time
HSC Research and Development Division
consults with its stakeholders on important issues relating to HSC Research and Development.  The most recent consultation was around
R&D Infrastructure in Northern Ireland
.  For more information
click here>
HSC R&D Division Staff
For a list of HSC R&D Division staff please see below>
HSC R&D Division Budget
Financial Year

Allocated funding DoH

(£m)

Additional funding DoH 1

(£m)

Income from other sources 2

(£m)

Contribution to NETSCC 3

(£m)

Total R&D Spend

2010-2011

10.27

1.0

0.63

 

11.90

2011-2012

10.19

 

0.23

 

10.32

2012-2013

10.38

 

0.49

 

10.85

2013-2014

10.34

 

0.43

1.41

12.18

2014-2015

10.59

0.58

1.00

2.88

15.06

2015-2016

10.60

0.57

0.93

3.23

15.34

2016-2017

10.59

1.64

0.98

3.16

16.37

2017-2018

10.30

1.58

0.42

3.53

15.84

2018-2019

10.70
0.98
0.213
3.38

15.28

2019-2020

12.00
0.86
0.703
3.85
17.41
1 Income achieved through bids put forward by HSC R&D Division for additional funding from DoH NI.
2 Income from other funders into R&D budget as part of co-funding arrangements (N.B. This only includes funding that comes directly into HSC R&D Division budget before being awarded. Many other co-funding arrangements are in place whereby the funding from the co-funder(s) goes directly to the research host institution, and therefore is not shown here)
3 Contribution made to the National Institutes for Health (NIHR) Evaluation, Trials and Studies Coordinating Centre (NETSCC). This provides access for NI researcher to the NETS funding opportunities.
What areas do we fund?
Download a pdf of HSC R&D Division funding structure (Aug 2016). Also see our portfolio pages to view lists of funded research.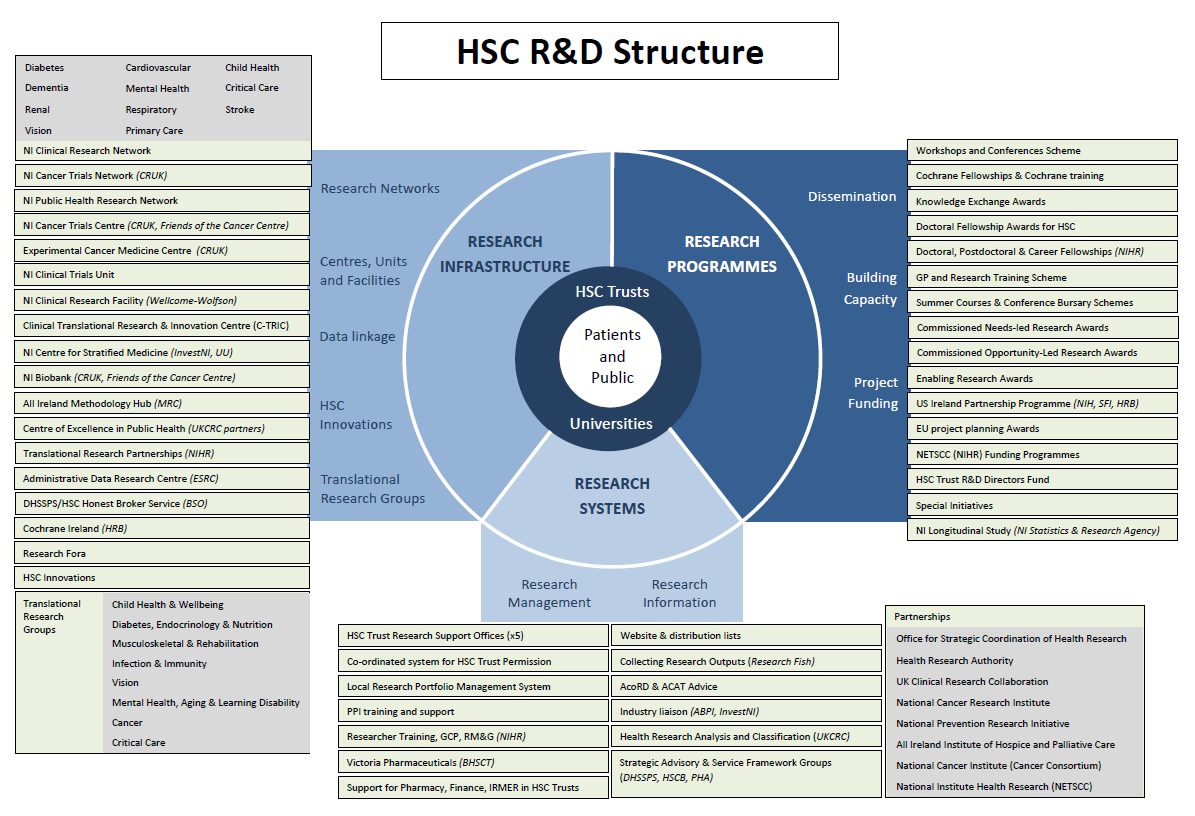 Click on the image below to see how the funding is split across different areas:

Health Research Analysis
The fourth report of the UK Clinical Research Collaboration (UKCRC) Health Research Analysis (2014) is available to download from the HRCS Online Website.
This report includes analysis of more than 22,500 health and biomedical research active awards from 146 organisations (including HSC R&D Division) accounting for an estimated expenditure of almost £4.8 billion in the calendar year 2018.
Comparisons with expenditure on health research over the period 2004 to 2018 show that HSC R&D has increased its spend on research that is closer to patients/service users. The greatest change in Northern Ireland's spending profile is towards studies focused on evaluation of treatments.  This relates directly to strategically planned activity, and reflects the growth in expenditure on Clinical Research Networks.
Setting Research Priorities
Linking to National Research Priorities: Most often we draw on the work of national organisations who undertake research priority exercises.
The James Lind Alliance (JLA) is a non-profit making initiative established in 2004 and now managed by NIHR. It brings patients, carers and clinicians together to identify and prioritise the top 10 uncertainties, or 'unanswered questions', about the effects of treatments that they agree are most important. This information helps to ensure that those who fund health research are aware of what matters to both patients and clinicians.
The JLA work closely with The UK Database of Uncertainties about the Effects of Treatments (UK DUETs) to ensure that priorities identified through Priority Setting Partnerships are recorded. DUETS publishes treatment uncertainties from patients, carers, clinicians, and from research recommendations, covering a wide variety of health problems and draws on three main sources to identify uncertainties about the effects of treatments:
Identifying Local Research Priorities: From time to time HSC R&D Division also works directly with users of research (policy-makers, practitioners and commissioners), generators of researchers, patients, clients, carers and others to determine priority research areas for HSC.
How funding decisions are made
HSC R&D Division offers various research funding schemes (listed under the funding opportunities section) which are developed in line with HSC R&D Strategy and endorsed by the R&D Strategic Advisory Group.
Research funding is distributed in a transparent and accountable way through open competition. The process is intended to ensure the highest quality, relevance and focus of the research funded by HSC R&D Division.
In most cases valid research funding applications are rigorously evaluated by independent peer review and Evaluation Panels, to ensure that HSC R&D Division achieves high standards of evaluation and uses its limited award budget to best effect, by funding only the most outstanding proposals.
Evaluation Panels are established to objectively assess, against predetermined criteria, each application through various stages of an evaluation process and to eventually agree and recommend a list of applications worthy of support to HSC R&D Division. 
HSC R&D Division will appoint a Chairperson for the Evaluation Panel, who could be the Director of HSC R&D or a person from outside Northern Ireland who has experience of judging research award schemes at a national (UK) level. The Chairperson often does not exercise voting/scoring rights, but has the responsibility to ensure that the Evaluation Panel executes its duties with fairness, objectivity, accuracy and integrity. 
HSC R&D Division will appoint Panel Members for the Evaluation Panel. The composition of the Panel is dependent on the remit and scope of the funding scheme and will often include members from academic, clinical, scientific and social care backgrounds who are deemed to have expert knowledge of the topic area(s) as well as persons from a HSC policy and practice background. In addition, the Panel will always include active involvement of members of the public (PPI representatives). HSC R&D Division are indebted to the hard work of many people in reviewing and recommending applications for funding. A list of people involved in our decision making process since 2010 can be found here:  Members of HSC R&D Division Panels
In supporting the work of the Panel, funding applications will usually undergo an external peer review process using high quality referees at a national and international level. Referees are usually persons with academic, policy or clinical backgrounds who are deemed by HSC R&D Division to be topic experts in the area under consideration. HSC R&D Division is very much dependent on the goodwill of the wider research community to support it in this work.
Final decisions on which applications can be funded, from those deemed worthy of support by the Evaluation Panel, is made by HSC R&D Division, dependent on the budget available. This stage may also involve seeking advice from other sources.
Involving Service Users and Public
The work of HSC R&D) Division is based on the principle that the best health and social care must be underpinned by knowledge, based on well conducted research, which can then be applied in the delivery of care.
To help achieve this, we want to ensure that services users and the public have an opportunity to influence the research process and that the topics which are prioritised for research are important for service users and are patient- and public-centric rather than solely researcher-led. 
We have embeded Personal and Public Involvement (PPI) into all aspects of HSC R&D Division activity. Through this we aim to:
promote public awareness of health and social care research and actively seek the involvement of the public in our activity;
increase awareness among the clinical research community of the benefits of PPI and encourage researchers to engage with users, carers and advocacy groups at the earliest possible stage in the planning and development of their research projects;
make researchers aware of mechanisms and systems for PPI that will provide the scope and capacity to help them to plan, conduct and disseminate research studies that are important and relevant to service users;
facilitate researchers' access to service users and public input.
Public awareness about research is important and two examples of how we faciliate this are the "OK to ASK" campaign and the Join Dementia Research Initiative.
Partnership Working
HSC R&D Division has a local focus but acknowledges that health and social care research is a global endeavour, and so, forms effective partnerships and close working relationships with our counterparts in the other UK administrations and in Ireland, the European Union and the United States of America. These partnerships are essential for the effective delivery of research in the HSC and are used to: 
joint fund research infrastructure
joint fund research awards
co-ordinate effective research management
promote good research practice
Partner organisations which HSC R&D Division continues to work closely with include: All Ireland Institute for Hospice and Palliative Care  •  All Ireland Institute of Public Health  •  Atlantic Philanthropies (AP)  •  Biobusiness Northern Ireland  •  Cancer Research UK  •  Department for the Economy  •  Department of Health (NI)  •  Economic & Social Research Council (ESRC)  •  Health Research Authority (HRA)  •  Health Research Board (Ireland)  •  Health & Social Care Trusts  •  Invest Northern Ireland  •  Medical Research Council (MRC)  •  National Cancer Institute (USA)  •  National Cancer Research Institute (NCRI)  •  Northern Ireland Medical and Dental Training Agency (NIMDTA)  •  Northern Ireland Practice & Education Council for Nursing & Midwifery  •  National Institutes for Health (USA)  •  National Institute for Health Research (NIHR)  •  Northern Ireland Statistics & Research Agency (NISRA)  •  Office for Research Ethics Committees Northern Ireland (ORECNI)  •   Office for Strategic Coordination of Health Research (OSCHR)  •  Queen's University Belfast (QUB)  •  Royal College of Nursing (RCN)  •  Science Foundation Ireland •  UK Departments of Health  •  UK Clinical Research Collaboration (UKCRC)  •  UK Cochrane Collaboration  •  Ulster University (UU)  •  US Ireland Partnership  •  Wellcome Trust  •  Wolfson Foundation
Strategic Advisory Group (SAG)
HSC R&D Division is supported in its role by a Strategic Advisory Group (SAG) who provide advice on:
Developing and implementing an R&D Strategy for the HSC with the aim of improving the health and social wellbeing of the population of Northern Ireland and elsewhere, and encouraging an evidence-based approach to health and social care across the HSC;
Ensuring that the Strategy maximises the use of HSC R&D resources to meet the needs of the wider HSC, and takes account of views from a wide range of persons and organisations with an interest in HSC R&D activity;
New developments affecting HSC R&D.
The Membership of SAG includes:
Director of HSC R&D & Chief Scientific Advisor  •  Assistant Director for HSC R&D  •  Chief professional advisors at DoH (NI) (inc. Chief Medical Officer, Chief Nursing Officer, Chief Dental Officer, Chief Pharmaceutical Officer and Chief Social Services Officer)  •  Director of Public Health, Public Health Agency (PHA)  •  Non-Executive Chair, PHA Board  •  Directors of R&D in each of the five HSC Trusts (Belfast HSCT, Western HSCT, Northern HSCT, Southern HSCT, South Eastern HSCT)  •  Pro Vice-Chancellor for Research, Queen's University Belfast (QUB)  •  Pro Vice-Chancellor for Research & Innovation, Ulster University (UU)  •  Director of Innovation, Research & Technology, InvestNI  •  Assistant Director of Commissioning, Health and Social Care Board (HSCB)  •  Head of Research, Patient & Client Council (PCC)
There are also a number of Observers including representatives from: the Medical Research Council; Economic and Social Research Council; Health Research Board Ireland; Institute of Public Health Ireland; and Association of Medical Research Charities.
HSC R&D Division Staff 
CHIEF SCIENTIFIC ADVISOR, DOH (NI)

DIRECTOR, HEALTH & SOCIAL CARE R&D

ASSISTANT DIRECTOR, HSC R&D DIVISION

SENIOR MANAGEMENT TEAM

AREAS OF SPECIALITY INCLUDE:

Programme Manager

PUBLIC HEALTH RESEARCH

USE OF DATA IN RESEARCH

HEALTH RESEARCH ANALYSIS AND CLASSIFICATION

Programme Manager

Research Infrastructure

Enabling Awards

Personal and public involvement in research

palliative care, social care and mental health research

Programme Manager

RESEARCHER CAREER DEVELOPMENT

RESEARCHER TRAINING

RESEARCH FELLOWSHIPS

RESEARCH OUTPUTS

Senior Industry Manager

INDUSTRY ENGAGEMENT UNIT

Programme Manager

LIFE SCIENCES CONTACT POINT FOR HSC RESEARCH

RESEARCH INFRASTRUCTURE

RESEARCH COSTING

Industry Engagement Manager

INDUSTRY ENGAGEMENT UNIT

Head of Central Governance Facility

CENTRAL R&D GOVERNANCE FACILITY

Programme Manager

US IRELAND RESEARCH PARTNERSHIP

SUPPORT TEAM

 

Support Manager

SUPPORT TEAM LEAD

BUDGET MANAGEMENT

FINANCE SUPPORT

STRAND ADMINISTRATOR

DOCTORAL FELLOWSHIP AWARDS

CAREER DEVELOPMENT FELLOWSHIPS

US IRELAND PARTNERSHIP PROGRAMME AWARDS

WORKSHOPS & CONFERENCES AWARDS

STRAND ADMINISTRATOR

ENABLING RESEARCH AWARDS

OPPORTUNITY LED  & NEEDS LED COMMISSIONED RESEARCH

RESEARCH NETWORKS

TRUST RESEARCH OFFICES

CURRENTLY VACANT

STRAND ADMINISTRATOR

GP RESEARCH TRAINING AWARDS

NCI SUMMER COURSES

EARLY INTERVENTION TRANSFORMATION PROGRAMME

Support Manager

CHITIN (INTERREG) PROJECT

STRAND ADMINISTRATOR

CHITIN (INTERREG) PROJECT

COMMUNICATIONS

CHITIN (INTERREG) PROJECT

LAURA MOORE

HSC R&D APPROVALS SENIOR MANAGER

CENTRAL R&D GOVERNANCE FACILITY

EMMA McAULEY

Research Assessor

CENTRAL R&D GOVERNANCE FACILITY

DANIELLE UPRITCHARD

Research Assessor

CENTRAL R&D GOVERNANCE FACILITY

ADMIN TEAM

 

PA to AD and DIRECTOR

ADMIN LEAD

PA SUPPORT TO ASSISTANT DIRECTOR HSC R&D DIVISION

PA SUPPORT TO DIRECTOR OF  R&D FOR HSC

Administrative Assistant

WEBSITE

COMMUNICATIONS

RESEARCH OUTPUTS AND CLASSIFICATION

Administrative Assistant

WORKSHOPS & CONFERENCES

PANEL MEETINGS

REPORTING