As part of our Strategy for PPI in HSC Research, HSC R&D Division has a group of PPI representatives who support it in its activities.
The name of this group is PIER (NI). PIER stands for Public Involvement Enhancing Research.
The purpose of PIER (NI) is to assist HSC R&D Division with implementing PPI in its decision making processes and to raise awareness of the benefits of PPI in research among HSC researchers and the wider public.  It is not intended that the PPI representative will represent any group of patients or organisation but will lend his/her individual perspective as a member of the general public or a patient, client or carer with experience of a particular illness, condition or service.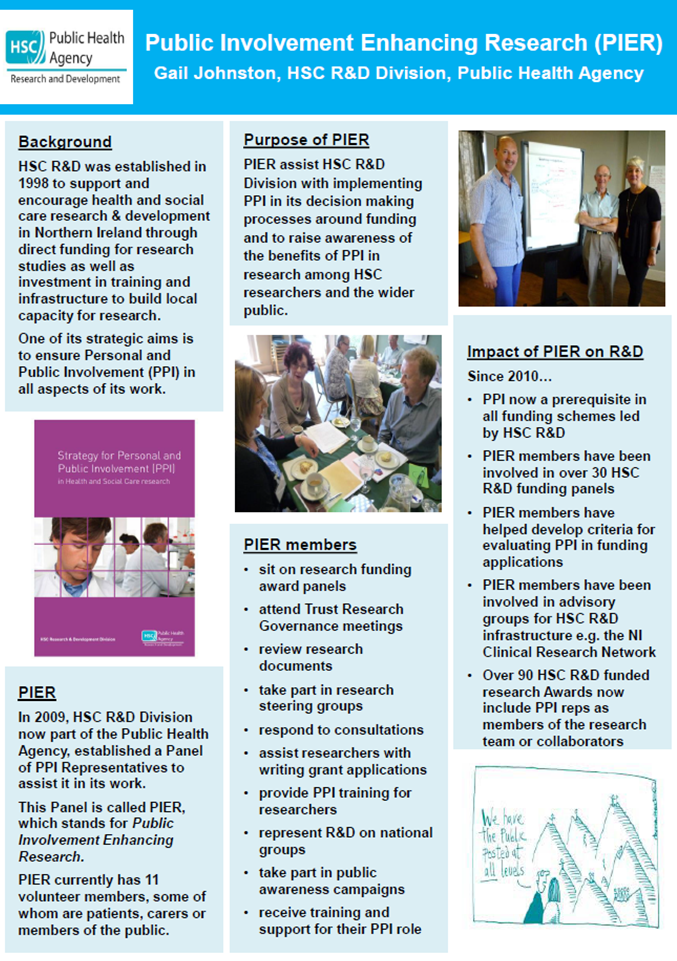 < Click on the picture to download the poster explaining what PIER is all about and what PPI representatives may be asked to do.
Membership of PIER (NI) is voluntary and new members are recruited/welcomed on an on-going basis. If you would like to find out about becoming a member please read the description of the PPI role and complete the Expression of Interest Form and send it to Dr Gail Johnston, Programme Manager at HSC R&D Division.
If you are a researcher and would like to work with PIER please complete this form and send to Gail
CURRENT MEMBERS of PIER   (click here to download PIER Bios)
      PPI training on Critical Appraisal with Sally Crowe

 

      PPI training on Decision Making with Allan Gaw