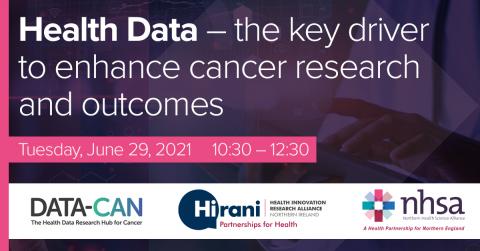 The Health Innovation Research Alliance Northern Ireland (HIRANI) and Northern Health Science Alliance (NHSA) and the have joined forces with HDR UK North, HDR UK Wales and Northern Ireland, and DATA-CAN: the UK's Health Data Research Hub for Cancer, to bring you this virtual seminar focusing on the role of health data research in enhancing cancer research, improving patient outcomes and driving innovation. This is for industry, academia, clinicians.
The seminar will bring together partners in industry, life sciences, the NHS, data science, charities and academia from across the North of England and Northern Ireland to learn more about the work of the Health Data Research Hubs and explore how inter-sectoral and cross-regional partnerships can drive an enhanced research and innovation agenda. Co-chaired by the NHSA and HIRANI, participants will gain an insight into health data research across the UK, and specifically the work of DATA-CAN with case studies showcasing how health data is enhancing cancer research and innovation and improving patient care and outcomes.
To register click here.