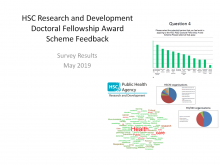 In April 2019 a feedback survey was distributed to a number of stakeholders to gather feedback on the knowledge of and potential barriers to the R&D Doctoral Fellowship Award Scheme. A substantial number of responses were received, providing comprehensive feedback on many aspects of the Scheme and suggestions on changes that may be considered for future rounds. The results of this survey are linked in the presentation below, together with an outline of short, medium, and long-term changes that are being considered for this Scheme. To view click on the image.
If you have any further comments or questions about the R&D Doctoral Fellowship Award Scheme please contact Strand Administrator Lisa Hutchinson on lisa.hutchinson@hscni.net or Programme Manager Naomh Gallagher on naomh.gallagher@hscni.net. 
Also please note the 2020 Doctoral Fellowship Scheme is currently open and the closing date for applications is Friday 11 October 2019 at 2pm.  To read more click here.