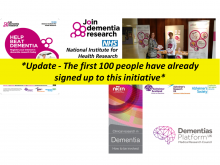 *Update - The first 100 people have signed up to this initiative since the campaign launch*
Northern Ireland to boost participation in dementia research through ground-breaking new service 
A nationwide online and telephone service that helps people to take part in dementia research studies launches in Northern Ireland today during World Alzheimer's Month. Join Dementia Research promises to accelerate the pace of dementia research in Northern Ireland by allowing people with and without dementia to register their interest in studies, and helping researchers find the right participants at the right time.
A recent national poll* has shown that almost two thirds of the general public (62%) would be willing to take part in dementia research, but more than four out of five people (81%) wouldn't know how to volunteer. Join Dementia Research is designed to overcome this barrier and give everyone the opportunity to play a role in changing the outlook for people with dementia now and in the future
Join Dementia Research is a collaboration between the National Institute for Health Research (NIHR), Alzheimer's Research UK, Alzheimer's Society and Alzheimer Scotland. Launched in England and Scotland in February and Wales in July, over 11,000 people have registered their interest in research studies through the service. Of those, more than 1,600 have already been enrolled into research.
Gordon Kennedy, who cared for his wife with dementia, said:
"Getting involved in research is so important to getting a clearer understanding of the condition and the devastating impact it can have on families. I would definitely encourage others to get involved too."
Anyone aged 18 years or over can sign up themselves on-line or on behalf of someone else at www.joindementiaresearch.nihr.ac.uk, either by registering online or by contacting the helplines of Alzheimer's Research UK (0300 111 5 111) and Alzheimer's Society (0300 222 1122). By signing up to the service, people give permission for researchers to contact them with details of studies in their area that match their profile. People can then decide if they would like to participate in those studies on a case-by-case basis. By registering, people do not have to take part in any studies and can opt-out at any time.
We would encourage everyone to sign up for this important initiative today.
For more details please see the article on the NIHR website and the full press release here
The leaflet can be downloaded here. 
CMO & @beatdementia urge people to register to volunteer for dementia research studies http://ow.ly/SyE6r #JoinDementiaResearch
Visit http://ow.ly/SyASO to take part in research to help improve dementia care & find a cure  #JoinDementiaResearch
To mark the launch of Join Dementia Research Initiative in Northern Ireland, a number of events are being held across Northern Ireland this week
(Left - right) - Sonia McKenna, Staff Manager, and Aine Wallace, Dementia Research Nurse, Northern Ireland Clinical Research Network (NICRN), promoting the Join Dementia Research Initiative to staff, patients and visitors at the Royal Victoria Hospital, yesterday.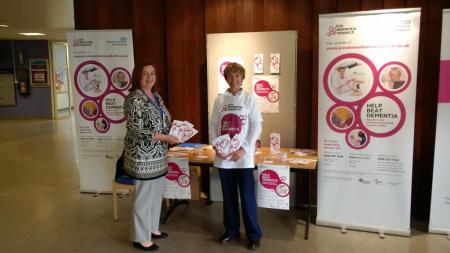 Justine McCann, Debbie Rainey and Aine Wallace, Research Nurses at the NICRN distribute more leaflets at the Memory walk held at Stormont on Saturday 26 September 2015