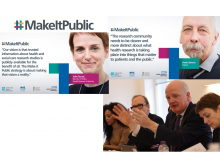 About this Event
Background
When research is open and transparent everyone benefits; the public can see what types of research are taking place, patients can join research studies and access clear information about research findings, research professionals and policy makers can make use of research results and funders can make better use of research funds.
Whilst transparency has improved over recent years, practice still doesn't always match requirements and expectations. The House of Commons Science and Technology Committee conducted an inquiry into research integrity, and in its report, published in October 2018 the committee called on the HRA to develop a strategy to drive improvements in research transparency. The HRA, guided by an expert group and in collaboration with the four nations, has drafted a strategy to achieve research transparency. The HRA is running a 12-week consultation from 17 July 2019. During this period an online survey will be used to gather feedback on proposals.
Workshops
To provide further opportunities to contribute to the consultation, and to hear stakeholders' opinions on the draft strategy for research transparency, the HRA is hosting a number of interactive workshops across the UK. In partnership with the HSC R&D Division of the Public Health Agency, a Northern Ireland workshop has been arranged for 12 August 2019 from 12.30-4.30 in Mossley Mill, Newtownabbey. During the workshop, you will be asked to discuss the different proposals set out in the draft strategy in small groups, and then feedback to the wider group. Members of HRA staff and the expert group who were involved in drafting the strategy will be present on the day to hear your views and answer any questions you may have. This is an open workshop for research professionals, patients and the public. Before attending please read through the draft strategy and complete the online survey.
"Although we've seen real improvements in openness and transparency over the last few years, particularly in commercial pharmaceutical research, the figures show that we have more to do. The Make it Public strategy will set out both our commitments to facilitating transparency from researchers and clarifying our expectations of them.

"I would encourage patients and the research community in Northern Ireland to attend the workshop or complete our online consultation." 
Dr Janice Bailie, Assistant Director of the Health and Social Care Research and Development Division of the Public Health Agency
To attend the Northern Ireland workshop, please register using the following link: https://www.eventbrite.co.uk/e/make-it-public-hra-research-transparency-consultation-workshop-belfast-tickets-64718985227
To read the full HRA press release click here.