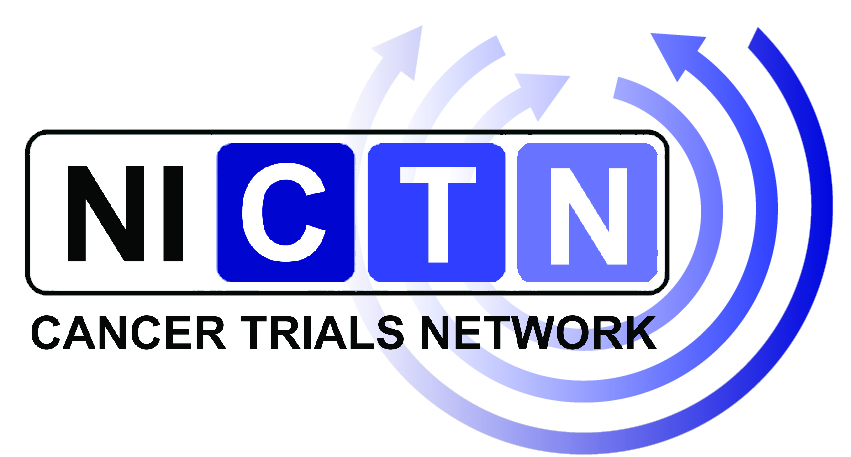 HSC R&D Division provides core funding to support the Northern Ireland Cancer Trials Centre (NICTC) and the Northern Ireland Cancer Trials Network (NICTN).
The NICTC/NICTN facilitates the delivery of cancer clinical trials and other high quality clinical research throughout Northern Ireland. They aim to deliver the highest quality and standard of care to cancer patients through leading edge clinical and translational research.
Northern Ireland Cancer Trials Centre and Network 
co-ordinates and promotes cancer clinical trials, and run the full range of first-in-human phase I to phase IV trials, along with genetic epidemiology, questionnaire, quality of life, translational and other high quality studies. Clinical trials can be designed locally (investigator-initiated) or adopted as part of a multi-centre study.  Investigator-initiated trials often involve collaboration with other academic groups within local universities or hospitals
acts as the centre for the Northern Ireland Cancer Trials Network (NICTN) responsible for the co-ordination of cancer clinical trial and translational research activity throughout Northern Ireland, particularly phase III trials and epidemiology studies
manages an academic early clinical trials unit running a portfolio of Cancer Research UK, commercial and local investigator-initiated experimental cancer medicine studies including  phase I, II and translational trials.
provides cancer research nurses working in all five HSC Trusts in Northern Ireland
promotes high quality cancer care in Northern Ireland by inclusion of patients on a geographically more equitable basis into cancer clinical trials, translational research and other well-organised cancer research studies.
Since 2007, the NICTC/NICTN has been integral to the Belfast Experimental Cancer Medicine Centre (ECMC), one of 18 such centres appointed within the UK
The NICTC/NICTN also receives funding from Cancer Research UK, Friends of the Cancer Centre, Prostate Cancer UK, and Bloodwise. NICTN and ECMC are jointly funded by HSC R&D Division and Cancer Research UK.
for more information please contact:
Melanie Morris (Operational Director NICTN)
East Podium, C Floor, Belfast City Hospital
51 Lisburn Road, Belfast BT9 7AB
Stuart McIntosh (Clinical Director NICTN)
Consultant Breast Surgeon, Belfast Health & Social Care Trust
Honorary Senior Lecturer, Queen's University Belfast