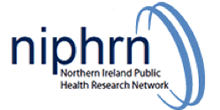 The Northern Ireland Public Health Research Network (NIPHRN) was launched in March 2012 by the Centre of Excellence for Public Health Northern Ireland and HSC Research & Development Division.
Aims of the Network
The aims of the Network are to; facilitate public health intervention research; extend the public health evidence base; increase engagement between public health professionals, academics and the third sector and increase the quantity and quality of public health research in Northern Ireland. 
Research Development Groups
The NIPHRN uses a Research Development Group (RDG) model to bring people together from a range of backgrounds in public health to focus on developing a specific research protocol to attract external funding. Any member can suggest a research idea which can then be circulated to other network members.
Join the Network
The NIPHRN already has 467 members and wants more. Membership is free and you can register for the Network by visiting the website www.niphrn.org.uk
Newsletters
Contact Us 
Further information and registration forms can be obtained by contacting info@niphrn.org.uk
Alternatively you can email the Network Director Professor Mark Tully