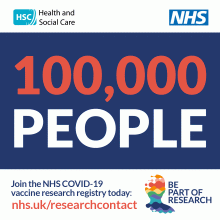 Over 100,000 people have volunteered to take part in COVID-19 vaccine trials, helping to speed up efforts to discover a safe and effective vaccine.
The government is encouraging more people to join the thousands of volunteers and sign up to the NHS COVID-19 Vaccine Research Registry to help the NHS in the fight against coronavirus and ensure potential candidates work for everyone.
To enable large-scale vaccine studies to take place across the UK, the aim is to get as many people as possible signed up to the Registry by October.
Researchers particularly welcome people from all parts of society, especially those who are more likely to benefit from a vaccine, including the over 65s, frontline health and social care workers, and those from Black, Asian and Minority Ethnic backgrounds.
Clinical studies with a diverse pool of volunteers will help scientists and researchers better understand the effectiveness of each vaccine candidate and will considerably speed up efforts to discover a safe and workable vaccine.
A number of trials in the UK are expected to begin this autumn, working with the NHS, research institutions and businesses, helping to develop and manufacture the vaccines. 
Launched on 20 July, the NHS COVID-19 Vaccine Research Registry is an online service allowing members of the public to register their interest in Covid-19 vaccine studies and be contacted to participate in future clinical trials.
Vaccines are tested in stages to ensure they are safe and effective. Volunteers who are contacted to take part in trials will be given information about what stage a particular vaccine is at and details of how it has already been tested. They will be able to consider this when deciding to take part and people can withdraw from the registry at any point.
The Registry has been developed by the government, in partnership with the National Institute for Health Research (NIHR), NHS Digital, the Scottish and Welsh governments and the Northern Ireland Executive.
To read more see the press release and to view the public dashboard click here.  This will show you the breakdown of people who have signed up by local authority, gender and age group.