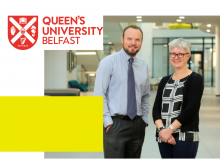 Two scientists from the Institute for Global Food Security (IGFS) at Queen's University Belfast have been selected to participate in pioneering, international research in the area of nutrition, preventive medicine and public health.
Professor Jayne Woodside, from the Centre for Public Health in the School of Medicine, Dentistry and Biomedical Sciences, and Dr Brian Green, from the School of Biological Sciences, will each be a regional lead for multi-million pound projects that span the Atlantic, and include Harvard University as a partner.
They have been backed by the US-Ireland Research & Development Partnership Programme for the research projects which total more than £5.5 million, almost £1 million of which will be invested directly in IGFS, via the Health and Social Care Research and Development Division within the Public Health Agency, Northern Ireland (HSC R&D) and the Medical Research Council (MRC).
Dr Green's four-year project will study a relatively unknown micronutrient known as 'queuosine' or simply 'Q'. Potentially critical for human health, Q helps our cells to encode genetic information into proteins, but little is known about how it is incorporated into the body or what the optimal dietary intake should be.
By coming up with new ways of measuring and quantifying the effects of Q, Dr Green and his team at IGFS, along with researchers at the University of Florida and Trinity College Dublin, will gain a much clearer picture of its importance in nutrition and how it can best be harnessed.
Meanwhile, Prof Woodside and her team, along with colleagues at Harvard University and University College Dublin, will conduct a five-year intensive investigation into the use of 'biomarkers' in nutritional research, especially whether they can capture overall dietary intake and the quality of our diets, allowing researchers to better explore what the links are between diet and disease risk, specifically heart disease.
Biomarkers are measurable indicators of any biological state or process – and it has been proposed that biomarkers measured in, for example, urine, may be a better way of measuring dietary intake and quality than relying on traditional dietary assessment methods via questionnaires.  The proposed research will explore this, and also explore whether knowing more about their diet quality measured using biomarkers makes people more likely to make changes to their diet. 
Professor Ian Young, Chief Scientific Advisor to the Department of Health NI and Director of HSC R&D, said: "Dietary intervention has the potential to reduce the incidence of many common diseases. Collaborations like these help to ensure that the best evidence is available to guide the advice which we provide for our population, and confirms that NI researchers are at the forefront of international work in nutrition research."
Dr Neha Issar-Brown, Head of Population and Systems Medicine for UKRI's Medical Research Council said: "This trans-Atlantic, interdisciplinary research has great potential for understanding how the mechanisms linking nutrition, health and disease act in combination – a major challenge in this field."
"Unhealthy diets are among the major modifiable risk factors for many diseases, especially non-communicable diseases and chronic conditions that are becoming increasingly common all over the world. Consequently, there is an urgent need for research that enables measuring, assessing, and potentially modifying, people's diets for greater public-health impact."
To read more see the full QUB press release.