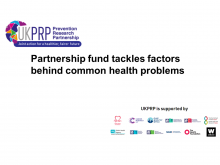 Three major research projects have won support from a £50 million-plus funding partnership.
The UK Prevention Research Partnership (UKPRP) is to invest £19 million-plus over five years in three successful consortia that aim to understand and influence social, economic and environmental factors that affect health.  UKPRP is a group of 12 funders including UK Research and Innovation councils, charities, and UK health and social care departments. The new awards follow a £25 million-plus investment in eight similar projects made by the partnership in 2019.
GroundsWell: health impacts of urban spaces
GroundsWell: community-engaged and data-informed systems transformation of urban green and blue space for population health is a successful consortium led by:
Dr Ruth Hunter, Queen's University Belfast
Professor Ruth Jepson, University of Edinburgh
Professor Sarah Rodgers, University of Liverpool.
Dr Ruth Hunter, from the Centre of Public Health at Queen's University Belfast and Groundswell Co-Director, said: "There is strong evidence that natural environments within urban areas, such as parks, woodlands (green spaces) as well as lakes and beaches (blue spaces), have positive impacts on health. 
"These urban green and blue spaces could be huge assets for protecting and equalising health if they were available, accessible, valued and well-used, particularly by less advantaged groups. The problem is that they are not, which is what this project aims to address." To read more see the QUB website.
The group of academics, practitioners, charities and industry will look at areas such as parks, woodlands, lakes and beaches in Belfast, Edinburgh and Liverpool to see how natural environments in urban spaces could be better designed, managed and used to improve health and reduce health inequalities.
UKPRP supports multidisciplinary teams looking at ways to prevent non-communicable diseases such as heart disease, poor mental health, obesity, cancer and diabetes.
Non-communicable diseases make up the majority of illnesses in the UK and account for an estimated 89 per cent of all deaths. The COVID-19 pandemic has shone a light on the existing poor health and health inequalities that left parts of the UK vulnerable to the virus.
Tackling factors behind non-communicable diseases can reduce health inequalities and the burden of disease and help people to lead longer and healthier lives. The work demands a wide range of expertise.
To read more about the other projects see the UKPRP website.
*HSC R&D Division is one of a number of funders of the UKPRP shown below*