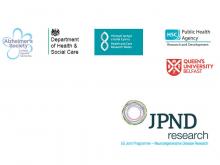 UK Funders, including HSC R&D Division of the Public Health Agency, have united with 15 countries across Europe, Australia and Canada to support international research collaborations into diseases of the brain, including those that cause dementia. The latest Joint Programme – Neurodegenerative Disease (JPND) funding awards represent a €17.5 million (approx. £15.75 million) investment over the next three years.
The JPND programme harnesses the collective expertise of researchers around the world to speed up progress towards new treatments and address shared challenges in health and social care. Alzheimer's Society, along with Department of Health and Social Care England, Health and Care Research Wales and the Health and Social Care R&D Division of the Public Health Agency (PHA) in Northern Ireland, has committed £2.15 million to the programme from the UK.
There are estimated to be 50 million people in the world affected by dementia in 2018. This number is set to rise to 152 million by 2050. This programme reflects the urgent need for better health and social care for the 850,000 people living with dementia in the UK and their loved ones. Through research, we can identify the best ways to plug this vital gap so that people in the UK can live well throughout all stages of their condition. 
UK research teams are involved in eight of the 10 projects awarded funding. These researchers have provided an ambitious, collaborative, multi-disciplinary approach to address an important aspect of health or social care. This might be at a system and services level, right down to the individual level of patients, their carers and families
Dr Janice Bailie, Assistant Director, HSC R&D Division, PHA, Northern Ireland, commented :"We are delighted to be able to collaborate with our UK partners to fund these projects which will hopefully lead to real improvements in the care of people with dementia and their carers in the future. We are particularly pleased that one of the projects will be led by Professor Kevin Brazil from Queens University, Belfast, building on previous research in Northern Ireland in nursing homes to establish an international community of practice to help families living with advanced dementia make informed decisions about end of life care."
Professor Kevin Brazil from Queen's University Belfast will be leading research across five countries to develop and test a new way to support people with advanced dementia.  Professor Brazil commented : "Previous research on the Family Carer Decision Support (FCDS) Intervention has shown that equipping family carers with the right knowledge and skills can reduce uncertainty in their decisions as well as improving satisfaction with the quality of care.  I am delighted that this new multinational programme will adapt and test the FCDS intervention so it can be widely put in place." 
Dr James Pickett, Head of Research at Alzheimer's Society, who led the UK funding of the initiative, says: "One person develops dementia every three seconds across the world. Dementia is a global problem, and we need global collaboration to defeat it.
"Alzheimer's Society is committed to a world without dementia, but we can't achieve this on our own. Uniting the Department of Health and Social Care (England), Health and Social Research Wales, and the Health and Social Care R&D Division of the Public Health Agency in Northern Ireland as well as 15 other countries to fund these eight ambitious new global care research programmes, brings us a step closer to making this a reality.  
"Our funding supports research in the UK, but we know the reach of our work is far wider. Sharing findings internationally and setting up collaborations around the world makes research funding go further, and allows researchers to be a part of cutting-edge dementia research.
"Alzheimer's Society is committed to spend at least £150 million on dementia research in the next decade. As the only UK charity funding research into dementia care, cure and prevention, we are delighted to include the Joint Programme – Neurodegenerative Disease as part of our research portfolio."
To read more about the individual studies click here.