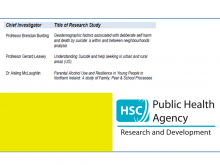 Launch of Research Studies in Suicide Prevention and Alcohol Misuse
The Health and Social Care R&D Division, Public Health Agency, Northern Ireland (HSC R&D Division) has recently commissioned three research studies (see Annex A attached).
These studies are now complete and we would like to disseminate their findings to key stakeholders in these areas. In addition, we would like to use this opportunity to look at next steps in the area of Suicide Prevention Research.
We are holding an official launch of these research studies in the Exhibition Centre, Europa Hotel, Great Victoria Street, Belfast, BT2 7AP on Tuesday 8th March 2016 9.30am – 3.00pm.
To book a place at the conference complete the registration form and send by email to cara.mcclure@hscni.net by 12th February 2016.