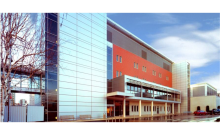 Early results from an innovative new clinical trial led by researchers from Queen's University Belfast have shown that men with prostate cancer could benefit from radical radiotherapy that delivers treatment in just five visits.
The 'SPORT trial' (A Study Evaluating Stereotactic Prostate Radiotherapy in High-Risk Localised Prostate Cancer) is the first if its kind in the UK and uses an advanced treatment called 'SABR' (Stereotactic Ablative Body Radiotherapy). SABR is highly accurate in targeting certain cancers and delivers large doses per treatment, allowing men to have their full course of radiotherapy in only five hospital visits instead of the typical 37.
The trial is led by Dr Suneil Jain, Clinical Reader at Queen's University Belfast and senior oncologist at the Cancer Centre alongside Dr Ciaran Fairmichael, Clinical Research Fellow at Queen's University Belfast.  Dr Fairmichael explains: "One of the complications from using radiotherapy is the potential damage that can be inflicted on neighbouring tissues.
"In this trial, we are evaluating the performance of the SpaceOAR hydrogel which is inserted between the prostate gland and the rectum of the patient. This creates a greater distance between the prostate tumour and other tissues, which allows us to concentrate the radiotherapy dosage provided to the tumour and thus  reducing the chance of radiation harming other tissues close to the tumour such as the bowel."
The preliminary results from the first patients treated in the trial with SpaceOAR and SABR have recently been published in the British Journal of Radiology. The trial is still open and in the future there are hopes to be able to offer this treatment to a wider range of men.
The SPORT study is conducted in collaboration with the Northern Ireland Cancer Centre and is being supported/funded by Friends of the Cancer Centre and Augmenix UK Ltd. Queen's University Belfast is a Prostate Cancer UK/Movember Foundation Centre of Excellence. HSC R&D Division are a funding partner in the Prostate Cancer UK/Movember Foundation Centre of Excellence.
Please see the QUB website for the full press release>