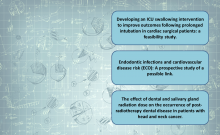 Research improves professional practice and benefits HSC service users. People expect the services they receive to be informed by high quality research. Health and Social Care (HSC) needs a core of active, skilled researchers who can advance our knowledge about illness, how the human body and mind work, and how we can better prevent and treat disease and improve health and wellbeing.
The HSC R&D Fellowships support excellent, early career professionals to understand how to undertake research in health or social care environments.
Three new research Fellowships, which will lead to a PhD, have been awarded in 2018.
These three successful research fellows all working within well-established health and social care research centres in Northern Ireland, have presented high quality research proposals, the results of which, will be used to improve future health and social services in Northern Ireland. The fellows also have the opportunity to undertake an intensive and bespoke training programme to develop their expertise as HSC researchers.
The effect of dental and salivary gland radiation dose on the occurrence of post-radiotherapy dental disease in patients with head and neck cancer.
Dr Ciaran Moore, a restorative dentist, will undertake a study involving patients undergoing radiotherapy as a treatment for head and neck cancer. He will explore how the severity of tooth decay and gum disease varies based on the radiation dose to the teeth and salivary glands; and the cancer site. This research will help to inform the delivery of improved dental care for radiotherapy patients.
Ciaran will be working with Dr Gerry McKenna, Professor Michael Donnelly and Professor Ciaran O'Neill from Queens University Belfast (QUB) as well as Dr Fionnuala Houghton, Consultant Clinical Oncologist in Belfast Trust.
Endodontic infections and cardiovascular disease risk (ECO): A prospective study of a possible link.
Recent research shows that dental infections, particularly gum disease, can increase the risk of heart disease. Mary McClory will embark on a new research study which aims to explore the link between endodontic infections and heart disease.  She will study data from men previously enrolled in a study of heart disease risk, known as the PRIME study, and look for evidence of bacterial infection including in the teeth of in these men. The benefits of studying teeth infections as a possible risk for developing heart disease are obvious, as treatment of these infections could potentially reduce such a risk.
Mary will be working with Dr Ikhlas El Karim, Dr Fionnuala Lundy and Emeritus Professor Gerry Linden from QUB
Developing an ICU swallowing intervention to improve outcomes following prolonged intubation in cardiac surgical patients: a feasibility study.
We know that patients who require breathing tubes in Intensive Care Units (ICU) for a prolonged time can have more difficulties with swallowing and aspiration. Sallyanne Duncan, a Speech and Language Therapist, is researching whether an early ICU swallowing treatment can be developed to reduce or prevent swallowing problems in these patients.
Sallyanne will be working with Professor Bronagh Blackwood and Prof Daniel McAuley at QUB as well as Professor Margaret Walshe, Clinical Speech and Language Sciences, Trinity College Dublin.