A holistic or 'whole systems approach' to obesity prevention could offer a more effective means of tackling high, unequal and increasing levels of obesity in Northern Ireland.
That's according to a new report examining best international evidence and case studies of this approach, developed by researchers at the Institute of Public Health, Ulster University, Queen's University Belfast, and University of Hertfordshire for the Department of Health.
The report comes as the Department of Health prepares to draft a new obesity prevention strategy this year to replace its predecessor, 'A Fitter Future for All 2012-22'. 
The latest data shows that one in four adults (27%) and around one in 16 children (6%) are living with obesity in Northern Ireland.
Official data further shows that the development of obesity is strongly linked to deprivation status. Between 2011/12 and 2018/19, one in three (36%) Primary Year 1 children living in the most deprived areas were more likely to have overweight or obesity compared to those living in the least deprived areas, representing a 12% increase since 2011/12 (24%). 
Obesity increases the risk of developing chronic disease, such as colon cancer, high blood pressure, or type 2 diabetes, and is linked to substantial direct and indirect costs – estimated to be of the order of £370 million in Northern Ireland in 2009.
This new report explores how a whole systems approach (WSA) can be used in obesity prevention by focusing on the systems within which people are born, grow, live, work and age.
See also a poster and graphic, and there is a short Youtube video of this launch at the following link: https://www.youtube.com/watch?v=QC7s_WjmBUg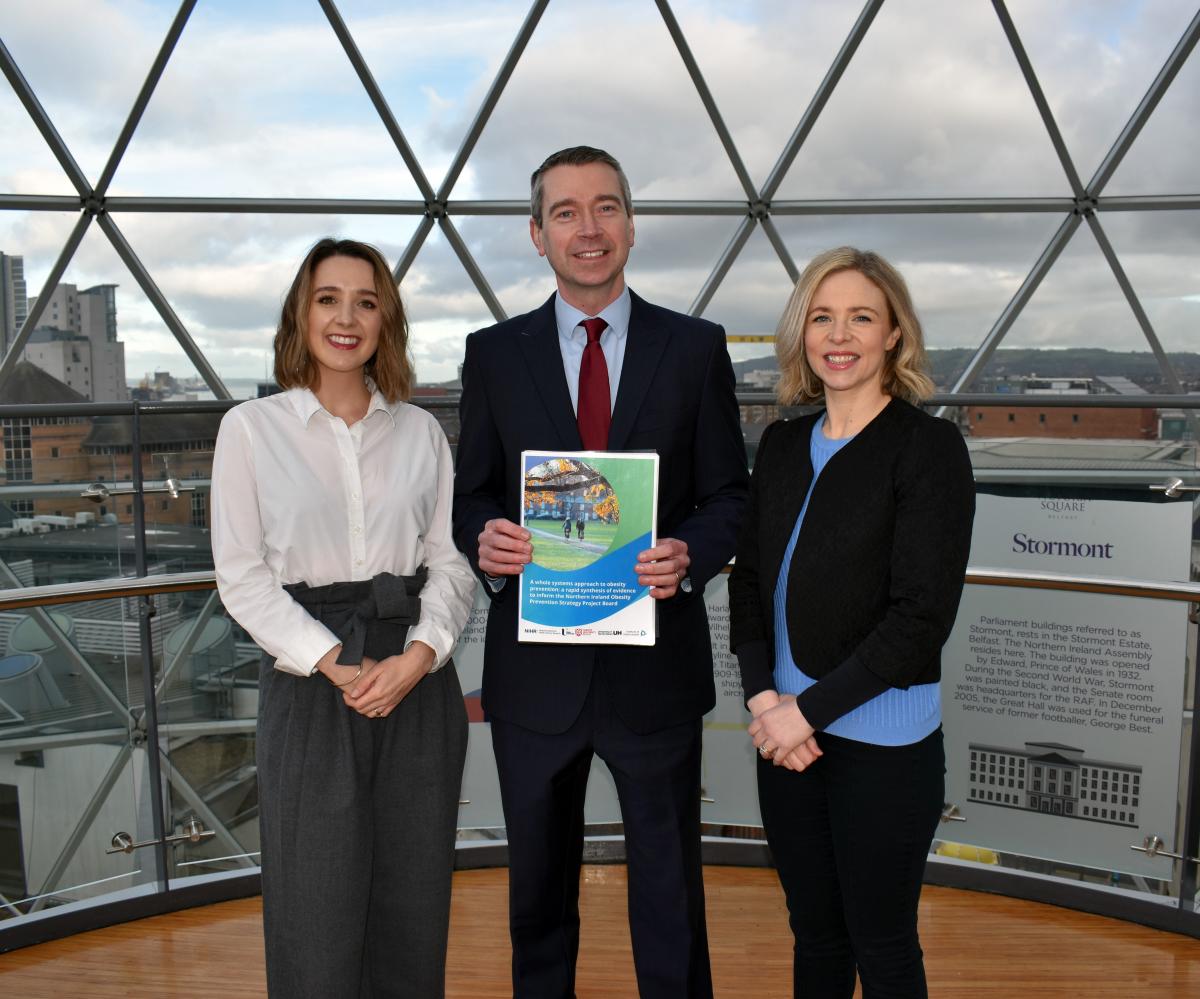 Dr Jenny Mack, Institute of Public Health, Dr Gavin Breslin, Ulster University, and Dr Laura McGowan, Queen's University Belfast pictured at the launch of a new report examining a whole systems approach to obesity prevention in Northern Ireland.