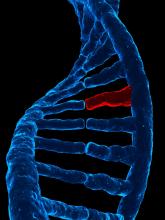 Health Minister Simon Hamilton has announced £3.3million investment to create a Northern Ireland Genomics Medicine Centre (NIGMC) that will provide rare disease patients with a much earlier and more accurate diagnosis. 
The NIGMC will be a regional initiative, based in the Belfast Health and Social Care Trust, and will bring together health, academia, industry and patients placing Northern Ireland, as part of the UK GMC network, at the forefront of medical innovation by sequencing genomes on an unprecedented scale, bringing better treatments to patients with cancer and rare disease. It involves a partnership with NHS England, Genomics England Limited and the contribution of £750,000 funding from the UK Medical Research Council. The Northern Ireland Executive is providing the remaining £2.5million investment.
The NIGMC's leadership group includes clinical, research, policy and health and social care representatives from Queen's University Belfast, the University of Ulster, Health and Social Care Board, Public Health Agency, Northern Ireland Pathology Network and the Department of Health, Social Services and Public Safety. Its membership will be widened to include industry representatives.
For the full press release please see nidirect >