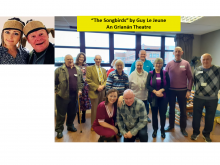 On 5 December 2019, members of PIER NI* (Public Involvement Enhancing Research) and staff of HSC R&D Division were treated to a performance of 'The Songbirds' at a Christmas Workshop. The Songbirds is a drama based on interviews with the 60 people living with dementia who participated in an Ulster University research study** which explored the impact of technology facilitated reminiscence on people living with dementia and their family carers. The study was led by the School of Nursing in collaboration with colleagues from computing and psychology and was funded by HSC R&D Division and The Atlantic Philanthropies as part of their Dementia Care Research Programme.
'The Songbirds' is a play about memory, humanity, love and life.  It is also a play that explores the lived experience of people living with dementia and celebrates their stories and the highs and lows of their lives.  The play was written and directed by Guy Le Jeune, An Grianán Theatre, Donegal and was performed by Valerie Bryce and Eoghan MacGiolla Bhrighde.
All agreed it was a poignant and emotional performance and a novel and creative way of disseminating the findings of research to the wider public.
​*To read more about PIER click here.
​**To read the report of the research study led by Professor Assumpta Ryan from Ulster University whose study led to this play being created click here.