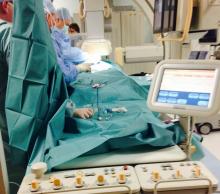 Research has shown that it is possible to reduce the amount of radiation children receive during X-rays of their heart, and this can be done without affecting the quality of the test.
Dr Richard Gould, a radiographer in the Belfast HSC Trust undertook this research study as part of a PhD Fellowship funded by HSC R&D Division.
A clinical trial involving 70 children was part of the study to took at different X-ray imaging methods and what effect they had on the quality of the pictures they produced as well as any risk to children's health. The research measured the dose of X-ray radiation for each imaging method as well as looking at blood samples taken from each child before and after X-ray exposure. The results show that it is possible to change the imaging method to one that lowers the radiation dose without significantly affecting the quality of the X-ray images, and that this also decreases the risk from X-rays by reducing the number of DNA double-strand breakages (measured in the blood). 
Richard's findings are important for children's health and have identified optimal techniques for X-ray imaging in children.
The researchers are very grateful to all the children and their families who took part in this research.
For more information on this study or other studies funded by HSC R&D Division please contact enquiry.rdpha@hscni.net