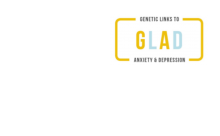 HSC R&D Division is providing funding to enable people in Northern Ireland participate in the Genetic Links to Anxiety and Depression (GLAD) Study
With 1 in 3 people in the UK experiencing significant symptoms of anxiety and depression during their lifetime, it is importnat that we learn more about the environmental and genetic links to anxiety and depression to find effective treatments and improve the lives of people experiencing these disorders.
Led by the National Institute for Health Research (NIHR) Mental Health BioResource and researchers at King's College London, GLAD is a UK-wide project set up in partnership with Cardiff University, the University of Edinburgh, and Ulster University  to explore risk factors for anxiety and/or depression. The project aims to collect saliva samples and questionnaires from 40,000 people across the UK. To date, over 20,000 people in England have consented to join GLAD.
For more information and to find out how to take part in the study please see the GLAD study website