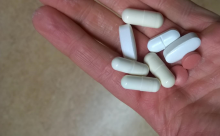 Dr Kathryn Higgins (Queen's University Belfast) is leading an NIHR-funded research into the wider impacts of New Psychoactive Substances (NPS) to provide new evidence to help pinpoint the right treatments for users suffering harmful effects from the drugs.
This research funded by NIHR's Public Health Research Programme looks beyond the reported physiological effects of the drugs to learn more about their wider impact on the individual, including why people use NPS in the ways that they do, and what attracts people to them. Significantly, this study did not focus solely on problematic populations, but shed light on NPS use across a wider population level.
It has found that peer pressure, family breakdown, lack of parental supervision and support and limited awareness of the effects of NPS were important factors. But an overarching finding was that NPS were always used within a polydrug use context (using more than one drug at the same time) which had the ability to significantly heighten the effects of each individual drug and increase harm. This wider background of multiple substance use, indicates the importance of looking at the bigger picture when considering the best way forward.
For more information see NIHR website>
The Department of Health in NI through HSC R&D Division contribute funding to NIHR, which enables Northern Ireland-based researchers to lead on applications for NIHR research opportunities alongside their colleagues from the United Kingdom (UK).