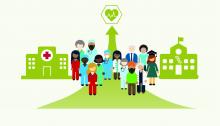 The Academy of Medical Sciences has launched their latest report exploring how the interface between academia and the NHS can be enhanced to improve the health and wealth of the UK.
Strong links between academia and the NHS are vital to keep the UK at the forefront of medical research. This report from @acmedsci looks at how we can continue to make this a priority: To read the full story click here> https://acmedsci.ac.uk/policy/policy-projects/nhs-academia-interface
Protected clinical research time, greater understanding of research benefits, and stronger links between the NHS and academia are just some of the recommendations from the report.
Also read the associated news story from @acmedsci: "Future patient care at risk unless health research protected and boosted"